Home page||| LNG handling ||| LPG handling||| Other Gas products||| Fire & Safety||| Emergency response |||



Liquefied gas carrier operation - Matters that require attention to onboard work



Confirming Working Area
: Before work, the conditions of working area, such as the density of inflammable gas and fire, shall be positively managed, and the work shall be started after the safety of the work is confirmed.The recommendations of ISGOTT with respect to hot work should be followed. Hot work should only be considered if there is no practical alternative means of repair, and consideration should be given to removing the work to a safe area such as the engine room workshop. Whenever hot work is to take place outside the engine room workshop the decision to carry out the hot work should involve the company.



Use of Non-spark Tools

(1) In areas where inflammable gas is likely to exist, no iron or steel hammers and other tools shall be used except non-spark tools.

(2) Non-spark tools (Bealon, Safety Tool, copper or brass tools, etc.) shall be marked with yellow paint.


Prohibition of Carrying Unnecessary Tools

Unnecessary tools shall not be carried for peeping in tanks, entering tanks, or moving on decks. While carrying necessary tools into tanks, preventive measures against dropping of tools, such as use of a canvas bag, shall be taken.


Attention to Shock Sparks by Light Metal

(1) Sparks by thermite reaction

When a light metal with iron oxide that exists over the light metal surface is shocked, a violent chemical reaction is produced between the light metal and iron oxide, and generates heat of 3,000?. A shock of a tool made of aluminum or magnesium alloy to rusty part of the hull or other structures can ignite mixed gas with a probability higher than that of a shock of iron to iron, which shall be given much attention.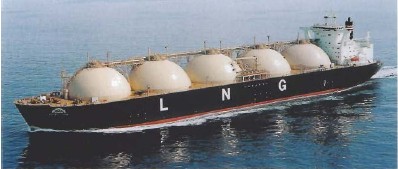 (2) Restriction of aluminum paint

Aluminum paint (silver paint) shall not be applied to areas where inflammable gas is likely to exist, since the same reaction can be produced if rusty iron coated with aluminum paint is shocked.

(3) Attention to handling of aluminum products

No trace of aluminum or the like on iron plate by dragging machinery or equipment made of light metal shall left on the plate. Tools used for aluminum or similar products shall be made completely free from such traces before the following use.

(4) Attention to light metal shore ladder

Light metal shore ladder shall not be hung directly on rusty portion of iron handrail.






Hot Work Procedures

The recommendations of ISGOTT with respect to hot work should be followed. Hot work should only be considered if there is no practical alternative means of repair, and consideration should be given to removing the work to a safe area such as the engine room workshop. Whenever hot work is to take place outside the engine room workshop the decision to carry out the hot work should involve the company.



Related Information:











Fire hazards and precautions - Atmosphere Control For Gas Carrier
Fire hazards and precautions - Sources of Ignition in Liquefied Gas Carrier
Fire hazards and precautions against Statistic Electricity in Liquefied Gas carrier
Safety checklist for gas carrier
Reactivity of liquefied gas cargo and safety guideline
Procedure for loading Liquefied Gas Cargoes
Procedure for Cargo Conditioning in Liquefied Gas Carriers
Procedure for segregation of Liquefied Gas Cargoes
Procedure for Stripping Liquefied Gas Cargoes
Procedure for Changing Liquefied Gas Cargoes
Displacing Atmosphere with Inert Gas (Inerting)
Maintaining tank pressure during a laden voyage
Liquefied gas carrier safety training
Tackling fire onboard liquefied gas carrier ship
LNG spill risk during marine transportation and hazards associated
Inerting of Cargo Tanks prior loading LNG cargo
Gassing-up requirement for cargo tanks
Preparation for Cargo Transfer
Procedure for discussion prior cargo transfer
Defining various gas carrier types
Fuel flexibility of LNG ships
LNG ship spillage risk
LNG shipment
Initial Cool Down of cargo tanks
Leaks on the Cargo System, Continuous Flow - how to prevent
LNG tank leaks and immediate action by gas carriers
Leaks from a Loading Arm due to Tidal or Current Effects
Minor or major leaks from LNG tanks
Procedures for LNG cargo discharging



// Home page/// LNG handling /// LPG handling/// Sea transport /// Gas products///

Cargo work ///Fire precautions ///Health hazards ///Safety Precautions

///Emergency response ///





Copyright © Liquefied Gas Carrier.com All rights reserved.


The content published in this website are for general reference only. We have endeavoured to make the information as accurate as possible but cannot take responsibility for any errors. For latest information please visit www.imo.org . Any suggestions, please Contact us !

///Links &Resources // Terms of use/// Privacy policy///Home page///