Rapid phase transitions of LNG cargo -associated hazards & safety technology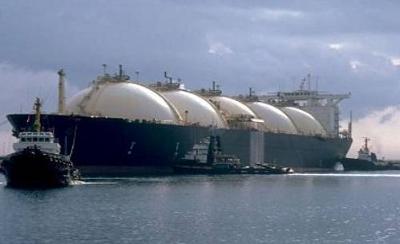 Fig:LNG carrier at manouvering
Rapid phase transitions are physical explosions caused by rapid vaporization of liquefied natural gas that do not involve combustion or burning. When liquefied natural gas flows on water, it forms a thin vapor film that separates it from the water. In locations of vigorous mixing, this film can be breached and LNG can come into direct contact with water. Under those conditions the LNG can undergo rapid evaporation, causing a rapid phase transition. In past spill experiments, rapid phase transitions have been observed at the first point of mixing with water and at the leading edge of a spill.
Mixing is known to be the most vigorous at these two locations. Rapid phase transitions are much less energetic than combustion explosions. Unconfined rapid phase transitions are generally not considered hazardous; however, these can cause structural damage if they were to occur in a confined space.
LNG Incidents and LNG safety
- LNG Incidents Started with the first vessel load of LNG by marine vessels. The number of LNG accidents is remarkably small.It is Consequence of a "Culture of Safety." Culture must transfer to bunkering segment of the industry.
LNG safety: Bunkering operations considered LNG transfers. It is not simply a fueling operation. SAFETY is of primary importance & specialty business with a limited number of participants and an impeccable safety record. Recent growth has added a number of new participants with limited LNG experience.
LNG as a marine fuel requires that all industry participants adopt the LNG safety culture. To the media any incident is not a bunker spill – "IT IS AN LNG ACCIDENT!!"
For transferring LNG as a cargo IMO type B (Moss Maritime spherical tanks) and membrane tanks (Gaz Transport and Technigaz) mainly are used. New developments use IMO type A tanks and IMO type C tanks. For LNG propulsion on ship other than LNG carriers, IMO type C tank are preferable.
Potential LNG Fuel Accidents
Spills from
Transfer piping
Storage tank
Vessel holding tanks
LNG explosive vapor: visible or flameless
Fire from spills: ranges beyond accident area
Terrorism
Terminal-Related LNG Accidents and Incidents
: Recent safety issues for LNG terminal siting, Safety exclusion zones, Remote siting, Security: Around and on terminals.
Vessel-Related LNG Accidents and Incidents
: Mostly due to breach of one or more storage tanks, with resulting discharge of LNG overboard. No accidents leading to loss of LNG cargo. Due largely to double-hulled construction of LNG vessels and separation between the LNG cargo tank and the inner hull.
The number of LNG-related accidents is relatively small when compared with the storage, handling and transportation of LNG. This is due to very strict international, national, and regional safety regulations and standards
Training is the key. Meanwhile, advances in technology and handling equipment keeps on improving.
Related Information:











Defining various gas carrier types
Fuel flexibility of LNG ships
Why initial cooling of cargo tanks required prior loading LNG cargo ?
LNG ship spillage risk
LNG shipment
Initial Cool Down of cargo tanks
Leaks on the Cargo System, Continuous Flow - how to prevent
LNG tank leaks and immediate action by gas carriers
Leaks from a Loading Arm due to Tidal or Current Effects
Minor or major leaks from LNG tanks
Procedures for LNG cargo loading
Procedures for LNG cargo discharging
External links :








//
Home page
///
LNG handling
///
LPG handling
///
Sea transport
///
Gas products
///
Cargo work
///
Fire precautions
///
Health hazards
///
Safety Precautions
///
Emergency response
///



Copyright © Liquefied Gas Carrie.com All rights reserved.


The content published in this website are for general reference only. We have endeavoured to make the information as accurate as possible but cannot take responsibility for any errors. For latest information please visit www.imo.org . Any suggestions, please Contact us !

///Links &Resources // Terms of use/// Privacy policy///Home page///