Home page||| LNG handling ||| LPG handling||| Other Gas products||| Fire & Safety||| Emergency response |||



Carrying liquefied natural gases by various type LNG ships



Liquefied Natural Gas (LNG) Carriers

LNG carriers in service are fitted with independent cargo tanks and with membrane tanks. LNG carriers are generally specialised ships transporting LNG at its atmospheric pressure boiling point of approximately -162 degree C, depending on the cargo grade. These ships are usually dedicated vessels, but some smaller examples may also carry basic LPG cargoes. If an LNG ship is capable of carrying basic LPG cargoes, a reliquefaction plant is installed to handle the boil-off LPG cargo vapours.



LNG carriers were typically in the range 80-135,000 m3 up until 2006. In 2006 the first LNG ships of over 200 and 250,000 m3 were being constructed for the new LNG trains being constructed in Qatar.

Temperature control

LNG is liquefied by refrigeration to -162°C and this process is carried out ashore, before the cargo is loaded onto the ship.

LNG carriers are fully insulated because it is not cost effective to liquefy methane onboard (2006, though the first vessels with reliquifaction plants may appear in the next few years). As the ship has no reliquifaction plant any boil-off vapours are burned as fuel gas in the the engine room.




Gas carrier cargo containment systems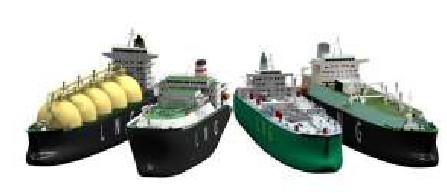 Fig:Various type LNG carrier



Construction

The cargo containment systems will generally be either: LNG Carriers - Membrane systems (Gaz Transport / Technigaz) previously described. (A full secondary barrier with inerted spaces is required for the membrane system) This system has a primary and secondary barrier that is constructed of a thin material and an insulation layer. - Type B (Moss Rosenberg) (The Type B spherical tank requires only a partial secondary barrier) A full double-bottom and side tank ballast system is fitted to all LNG ships.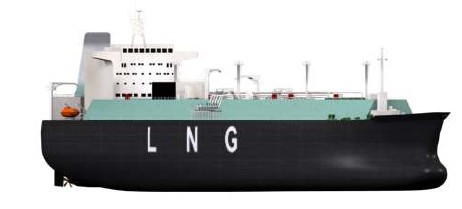 Fig:LNG carrier membrane gaz transport

Membrane (Gaz Transport or Tecnigaz)

A liquefied gas tank design where the cargo is contained by a thin stainless steel or nickel alloy flexible membrane. There are two membrane systems in use. In both cases the insulation is fitted directly into the inner hull and the primary barrier consists of a thin metal membrane less than one millimetre thick.

The Gaz Transport system uses two such membranes constructed of 'Invar' (36% nickel-iron low expansion alloy). One acts as the primary barrier and the other the secondary barrier and they are separated by plywood boxes of perlite insulation. Similar boxes are fitted between the secondary barrier and the inner hull. Loading is transmitted through the insulation to the ship structure. No centreline division is possible in this type of tank. The other system, developed by Technigaz, has a stainless steel membrane as the primary barrier while the secondary barrier is included in the insulation, which consists of load bearing balsa and mineral woods.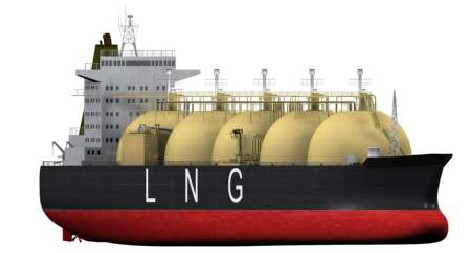 Fig:LNG carrier moss tanks

Moss Tanks

Spherical tanks are generally produced in aluminium or 9% nickel steel. The sphere is welded to a steel skirt that is connected to the hull of the ship and is then free to expand and contract as necessary.






Insulation is fitted to the outside shell of the sphere but no secondary barrier is regarded as necessary across the upper part of the sphere. However, below the sphere, an aluminium drip tray, together with splash plates, provides secondary protection for the hull.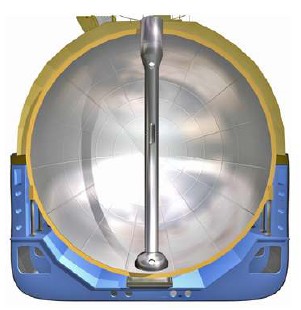 Fig:LNG carrier moss tanks cross section



( We have extracted gas carrier images and information from the publication 'LNG Shipping Knowledge' by Witherby Seamanship )


Related Information:

















Defining various gas carrier types

Fuel flexibility of LNG ships

Maintaining tank pressure during a laden voyage

Gassing-up requirement for cargo tanks

Initial Cool Down of cargo tanks

Leaks on the Cargo System, Continuous Flow - how to prevent

LNG tank leaks and immediate action by gas carriers

Leaks from a Loading Arm due to Tidal or Current Effects

Minor or major leaks from LNG tanks

Procedures for LNG cargo loading

Procedures for LNG cargo discharging

Rollover effect of LNG cargo and countermeasures



External links :










// Home page/// LNG handling /// LPG handling/// Sea transport /// Gas products///

Cargo work ///Fire precautions ///Health hazards ///Safety Precautions

///Emergency response ///





Copyright © Liquefied Gas Carrie.com All rights reserved.


The content published in this website are for general reference only. We have endeavoured to make the information as accurate as possible but cannot take responsibility for any errors. For latest information please visit www.imo.org . Any suggestions, please Contact us !

///Links &Resources // Terms of use/// Privacy policy///Home page///