Home page||| LNG handling ||| LPG handling||| Other Gas products||| Fire & Safety||| Emergency response |||



Segregation of cargoes in a liquefied gas carrier



When common pipeline systems are provided for various cargo-related operations, contamination will occur when different grades of cargo are carried simultaneously. If segregation is needed to avoid cargo contamination, shippers' instructions and regulatory requirements must be observed. If a common piping system has to be used for different cargoes, great care should be taken to ensure complete drainage and drying of the piping system before purging with new cargo.



Wherever possible, separate reliquefaction systems should be used for each cargo. However, if there is a danger of chemical reaction, it is necessary to use completely segregated systems, known as positive segregation, at all times, utilizing removable spool pieces or pipe sections. This restriction should apply equally to liquid, vapour and vent lines as appropriate. Whilst positive segregation may be acceptable for most cargoes, some substances may require totally independent piping systems. Special treatment of certain cargoes is specified in the relevant IMO Gas Carrier Code.

If there is any doubt about the reactivity or compatibility of two cargoes, the data sheets for each cargo and a cargo compatibility chart should be checked and advice sought from shippers or other authority. If this advice seems inconclusive, the cargoes should be treated as incompatible and positive segregation provided.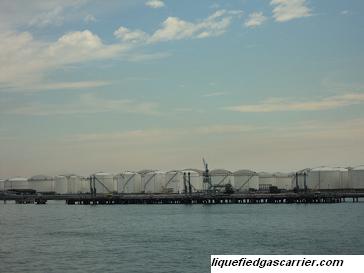 Fig:Liquified gas cargo storage tanks ashore
The following precautions should be observed:
(1) Where codes and regulations call for segregation, the position of the valves, blanks, portable bends and spool pieces associated with such segregation should be carefully arranged and clearly identified. These arrangements for segregation must be followed as part of the approved system.
(2) If the cargoes to be carried are not compatible, the responsible officer should ensure that the pipeline systems for each cargo are completely isolated from each other. This entails checking that all necessary blanks are fitted or that pipe spool pieces have been removed. A cargo log book entry should be made of the action taken.
(3) In case where two cargoes are compatible and an apparent negligible mix is permitted, the adjacent systems carrying the different cargoes should be isolated by al least two valves at each connection, or by one positive visible blank.
(4) Common pipelines and associated equipment should be drained, dried, ventilated and monitored before being used for another cargo.
(5) All temporary pipe-work should be gas-freed, monitored, disconnected and properly stored when not in use.
Related Information:











Cargo Information - physical and chemical properties necessary for the safe containment of the cargo
Reactivity of liquefied gas cargo
Toxicity and associated health hazards in liquefied Gas Carrier
Liquefied gases - How to remove all cargo liquid from tanks

//
Home page
///
LNG handling
///
LPG handling
///
Sea transport
///
Gas products
///
Cargo work
///
Fire precautions
///
Health hazards
///
Safety Precautions
///
Emergency response
///



Copyright © Liquefied Gas Carrier.com All rights reserved.


The content published in this website are for general reference only. We have endeavoured to make the information as accurate as possible but cannot take responsibility for any errors. For latest information please visit www.imo.org . Any suggestions, please Contact us !

///Links &Resources // Terms of use/// Privacy policy///Home page///