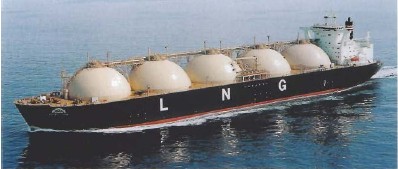 Fig:LNG carrier underway
Certified Safe Electrical Equipment
The types of equipment recognized as safe for dangerous areas fall into the categories described below :
i) Intrinsically Safe Equipment:
Intrinsically safe equipment relies on low power circuits to limit the maximum energy available to less than that necessary to ignite a flammable mixture under normal and certain fault conditions.
To use of intrinsically safe systems is limited to instrumentation, control and alarm systems because of the very low energy levels to which they are restricted.
ii) Explosion Proof / Flame Proof Equipment:
The equipment is designed with air gaps ('flamepaths'), between covers or removable parts and the enclosure, closely controlled and so narrow that, if ignition occurred in the equipment, the resulting hot gases or flame would emerge at such velocities that surrounding flammable gas would not be ignited by the explosion. The concept is applicable to motors, junction boxes, circuit breakers and a wide range of other equipment. A certificate for the integrity of the equipment is issued after laboratory testing.
Care is essential in the maintenance and re-assembly of this type of equipment to ensure that the design features are not destroyed. In particular, the flame path should be kept dry and should never be filled with jointing compound.
General Precautions
Alarm or shutdown circuits which are working correctly should never be bypassed, overridden or isolated; such action could endanger the safety of the ship.
Defective circuits may be bypassed temporarily in case of an emergency but this action should only be taken with the full agreement of the responsible officer, and the decision should be recorded. The defect should be rectified and the circuit repaired as soon as possible, and the bypass removed.
Certified safe equipment should be carefully maintained, preferably by qualified personnel; advise from the manufacturer should be sought in case of doubt.
See more information on gas carrier operation:
Related Information:
Custody Transfer Measurement (CTM) System
Records of the calibration of key cargo instrumentation, including temperature and pressure gauges
The high level alarm system
Manifold arrangements
Safety equipment
Decontamination showers and an eye-wash
Cargo tank ruptures due to increased pressure - emergency procedure for gas carriers
Loss of power supplies - emergency actions
Risk and hazards of Equipment failure
Loss of Instrumentation during Unloading Operations - Recommended actions by Liquefied Gas carriers
Risk and hazards of Nitrogen Loss
Gas carriers Loss of Instrumentation during Loading Operations
Gas carriers Structural Damage due to Incorrect Loading/Unloading Sequence
Encountering High Winds and/or Waves - countermeasures
Safety guideline for changing previous cargo
Safety checklist for gas carrier
LPG & Ammonia cargo handling -Precautions on cargo operation
The risk of ballast voyage - a brief guide to liquefied gas carriers
Preparatory operations for drydocking
Discussion prior to cargo transfer in liquefied gas carrier
Handling LPG And ammonia cargo - preparation for loading
The risk of discharging cargo - a brief outline to liquefied gas carriers
The risk of laden voyage - a brief guide to liquefied gas carriers
Connection and disconnection of cargo hoses and hard arms

//
Home page
///
LNG handling
///
LPG handling
///
Sea transport
///
Gas products
///
Cargo work
///
Fire precautions
///
Health hazards
///
Safety Precautions
///
Emergency response
///



Copyright © Liquefied Gas Carrie.com All rights reserved.


The content published in this website are for general reference only. We have endeavoured to make the information as accurate as possible but cannot take responsibility for any errors. For latest information please visit www.imo.org . Any suggestions, please Contact us !

///Links &Resources // Terms of use/// Privacy policy///Home page///