Home page||| LNG handling ||| LPG handling||| Other Gas products||| Fire & Safety||| Emergency response |||



The risk of ballast voyage & precautions for Membrane type & Moss type LNG carrier



Depending upon ship design, it may be necessary to undertake loading / de-ballasting or discharging / ballasting operations simultaneously. If this is the case, consideration should be given to the stability of the ship, especially to free surface effect in tanks, correct use of cargo tank centerline bulkhead valves, and cargo and ballast distribution to ensure adequate stability. Care should also be taken to ensure that the weight distribution does not lead to excessive trim, list or stress in transverse and longitudinal directions.





Concern about the introduction of alien organisms into environmentally sensitive waters and adjacent areas has prompted some national administrations to establish controls on the discharge of ballast water from ships. If it is necessary to change ballast at sea, the same care and attention must be paid to trim, stress and stability.

Though vessels, while sailing under ballast condition, have cargo tanks in two different conditions : one where propane or butane liquid is retained as coolant, and the other where only a small amount of liquid left over; the liquid left over evaporates and is gathered in coolant tanks and thus the latter will be filled with gas only.

Operations until arrival at a loading port include creation of the gas atmosphere according to a cargo loading plan and cooldown of each tank to the temperatures required at the loading port.

On the ballast passage, in addition to dealing with excess vapour produced as the remaining cargo boils, the temperature of the tanks also has to be controlled so that on arrival at the loading terminal, the vessel berths in a ready to load condition. Boil of gas creating pressure rises is dealt in the same way as on the loaded passage i.e. burned as fuel in the boilers.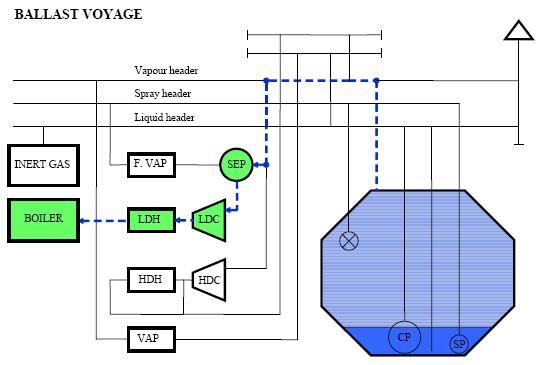 Fig:Cooling LNG tanks during ballast voyage

Cooling of the cargo tanks differs between Moss vessels and Membrane vessels

Membrane type

On short voyages, it is normal for the liquid heel to be retained in each tank to keep the vessel cold enough during the voyage to berth ready to load but precautions should be taken that spray pump can be started at any time during voyage as necessary to arrive with average cargo tank temperature of -130degC or lower.

On longer voyages, it is now recommended that the majority of the heel is retained in one tank, and that other tanks are sprayed on passage to cool them down. BOG on membrane ships is burned as usual as fuel.


Moss type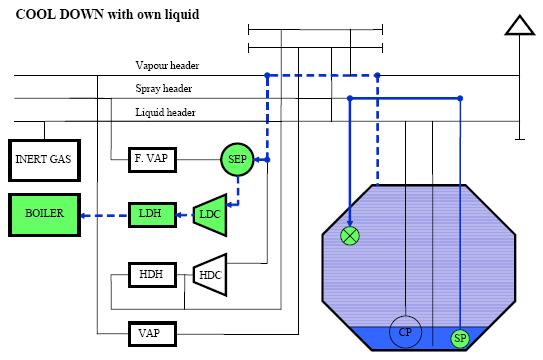 Fig:Cooling LNG tanks during ballast voyage

Liquid is taken from heel retained at the discharge port and sprayed into the cargo tanks using the in-tank spray pumps and nozzles. During the spraying additional vapour is generated which has to be used as BOG in the boilers.
The following items should be among those monitored during the spraying.
Cargo tank pressure
Cargo tank temperature
Vapour header pressure
Cargo tank level
Equator temperature
Cargo hold
Spray pump condition

Once all equator temperatures are at the planned value or below, stop spray pump. Remember to keep at least one spray valve open at each tank to avoid pressure increases in the line.








Related Information:















Reference Publications
MARPOL 73/78
IMO Resolution A.774(18) – "Guidelines for Preventing the Introduction of Unwanted Aquatic Organisms and Pathogens from Ship's Ballast Water and Sediment Discharged"
Ship specific Ballast Water Management Plan and Log
Ship's "Dedicated C.B.T. Operations Manual" (Approved by Class)
Ship's "Procedure and Arrangements manual" (Approved by Class)
International Safety Guide for Oil Tankers and Terminals (ISGOTT)
Clean Seas Guide for Oil Tankers
Guide to Port Entry




Other info pages:






























// Home page/// LNG handling /// LPG handling/// Sea transport /// Gas products///

Cargo work ///Fire precautions ///Health hazards ///Safety Precautions ///Emergency response ///





Copyright © Liquefied Gas Carrie.com All rights reserved.


The content published in this website are for general reference only. We have endeavoured to make the information as accurate as possible but cannot take responsibility for any errors. For latest information please visit www.imo.org . Any suggestions, please Contact us !
//Links &Resources // Terms of use// Privacy policy //Home page