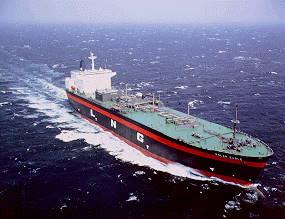 Fig:LNG ship at sea
Electric propulsion systems for LNGC's include the following components:
•Prime movers, i.e. dual fuel diesel engines;
• Prime mover driven generators;
• Main switchboard to distribute the generated power to the various consumers;
• Propulsion transformers;
• Frequency converters;
• Electric propulsion motors;
• Propeller(s);
The introduction of electric drive in LNGC propulsion might seem like a radical step, but in fact the move toward electric propulsion was an evolutionary process. With the LNGC growing in size, the onboard power requirements increased so much that 440 V installations couldn't handle the load safely. This led to the introduction of medium voltage switchboards and pumps motors. This familiarization with medium voltage systems was the first step towards electric propulsion. In cruise vessels, medium voltage propulsion systems were introduced more than a decade earlier and have since gained an excellent track record.
Fig:Dual Fuel Diesel Electric Propulsion Systems for LNG carriers
The advantages of the dual fuel electric propulsion system over the conventional steam turbine drive system are:
• Improved thermal efficiency of the propulsion plant, both at sea and in port;
• Lower installed power, as the power plant serves both the propulsion load as well as the harbor load;
• Increased redundancy with 4 prime movers and two (almost) independent drive lines;
• Increased cargo capacity within the same overall dimensions of the vessel;
• Crews with diesel electric experience are more readily available the crews with steam certification;
• Electric propulsion system is easier to operate and faster to start up and to shut down;
However, there are also a few disadvantages:
• Steam turbines have proven to be very reliable over time, more reliable than diesel engines;
• Steam turbine plants need less maintenance than diesels;
• Diesel engines have higher lube oil consumption than steam turbines;
• Electric driven vessels need additional equipment to handle excess boil-off gas;
• Steam turbines are very flexible in terms of fuel types and fuel mixing ratios, whereas dual fuel diesel engines operate either in gas mode or in diesel mode;
Related article:
Benifits of compressed gas technology
Transporting economically viable compressed gas liquids from remote fields
Advantages of the dual fuel diesel electric propulsion & crew training
Increased Cargo Capacity for LNG ships & Advantages of the dual fuel diesel electric propulsion
Procedure for transporting remote gas
Benifits of compressed gas technology
Transporting economically viable compressed gas liquids from remote fields
Advantages of the dual fuel diesel electric propulsion & crew training
Increased Cargo Capacity for LNG ships & Advantages of the dual fuel diesel electric propulsion
Procedure for transporting remote gas
Defining various gas carrier types
Fuel flexibility of LNG ships
LNG ship spillage risk
LNG shipment
Initial Cool Down of cargo tanks
Leaks on the Cargo System, Continuous Flow - how to prevent
LNG tank leaks and immediate action by gas carriers
Leaks from a Loading Arm due to Tidal or Current Effects
Minor or major leaks from LNG tanks
Procedures for LNG cargo loading
Procedures for LNG cargo discharging

//
Home page
///
LNG handling
///
LPG handling
///
Sea transport
///
Gas products
///
Cargo work
///
Fire precautions
///
Health hazards
///
Safety Precautions
///
Emergency response
///



Copyright © Liquefied Gas Carrie.com All rights reserved.


The content published in this website are for general reference only. We have endeavoured to make the information as accurate as possible but cannot take responsibility for any errors. For latest information please visit www.imo.org . Any suggestions, please Contact us !

///Links &Resources // Terms of use/// Privacy policy///Home page///