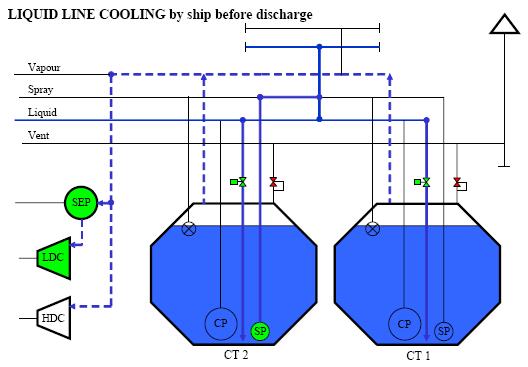 Fig:Liquid line cooling by LNG ship before discharging cargo
HD compressors ready for operation.
Sufficient Nitrogen is available for the cargo operation and forthcoming voyage. Nitrogen equipment is operational and correctly lined up.
High High Alarms tested and verified as operational.
Overflow alarms and activation of the ESD system tested and recorded as operational.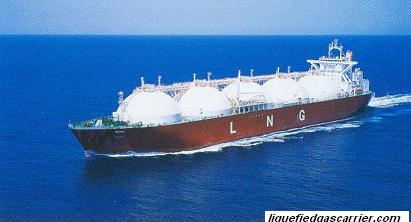 Preparation for LNG discharging
When terminal regulations allow, ship lines are to be cooled prior to arrival alongside. The operation is normally commenced 2 hours prior to arrival. LNG is normally supplied to the cargo liquid lines by one of the spray pumps. It is required that the pipelines be thoroughly circulated and cooled until final custody transfer measurement.
To avoid accident the best procedures is to circulate from the spray tank and back to the same spray tank. This avoids the risk of overflow. Once the vessel is berthed alongside the ships side water curtain should be started. The cargo arms can now be connected.
The manifold connection should be purged with N2 gas until the O2 contents is <1%. The manifold should be leak checked by N2 pressurization from shore and standard soapy water. Gas burning should be stopped prior to initial gauging.
After completion of CTM, manifold ESD valves should be opened and a warm ESD test carried out. Re-open ESD valves.
Confirm setting of all ship and shore valves are correct after notifying terminal start spray pump and slowly open the liquid manifold cool down valves.
If required, increase the flow from the spray pump by increasing the motor load, or increasing the spray line pressure. During this operation monitor the liquid header temperature to ensure it remains sufficiently cold. Shore will inform when they consider arm cool down as complete. Stop spray pump and carry out cold ESD.
Below is our additional guideline for handling LNG cargo:
Procedures for LNG cargo discharging
Precautions for LNG carrier during loaded passage
Preparation for loading LNG cargo
Drying of Cargo Tanks and preparation for loading LNG cargo
Inerting of Cargo Tanks prior loading LNG cargo
Gassing-up requirement for cargo tanks
Initial Cool Down of cargo tanks
LNG spill risk during marine transportation and hazards associated
Toxicity and associated health hazards in liquefied Gas Carrier
Safety check items prior loading LNG cargo
Related Information:





Defining various gas carrier types
Fuel flexibility of LNG ships
LNG ship spillage risk
LNG shipment
Initial Cool Down of cargo tanks
Leaks on the Cargo System, Continuous Flow - how to prevent
LNG tank leaks and immediate action by gas carriers
Leaks from a Loading Arm due to Tidal or Current Effects
Minor or major leaks from LNG tanks
Procedures for LNG cargo discharging
External links :
Cryogenic Fuels Inc. - Provides reliable, cost effective fully integrated LNG (liquefied natural gas) vehicular fuel systems






//
Home page
///
LNG handling
///
LPG handling
///
Sea transport
///
Gas products
///
Cargo work
///
Fire precautions
///
Health hazards
///
Safety Precautions
///
Emergency response
///



Copyright © Liquefied Gas Carrier.com All rights reserved.


The content published in this website are for general reference only. We have endeavoured to make the information as accurate as possible but cannot take responsibility for any errors. For latest information please visit www.imo.org . Any suggestions, please Contact us !

///Links &Resources // Terms of use/// Privacy policy///Home page///