Towing from another vessel or assist vessel in distress - Gas carrier recommended actions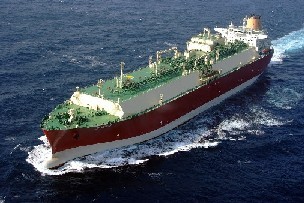 Fig:Liquefied natural gas ship underway
Remember that there exists an unqualified obligation to assist persons in distress. However, there are no such obligations for a master to assist in the salvage of a ship or its cargo, including towing.
Assist Vessel in Distress/Towing of Vessel in Distress
An obligation exists to assist persons in distress, but the Master is under no such obligation to assist or tow a vessel. However following to be considered prior assisting another vessel in distress.
i) Decide if a towing operation is the best practicable solution.
ii) Discuss the situation with the Chief Engineer regarding the use of the vessel's engines for this purpose.
iii) Notify owner before any towing operation is initiated.
iv) Await management reply. The hull insurance and shipper's agreement may have to be obtained.
v) Check own towing equipment. Put up a list of the insurance wire (if any), other heavy wires/hawsers, anchor chains, shackles, and other equipment. The dimension and strength of each of these items are needed.
vi) Find out, if possible, your own towing pull at your present draft by varying speeds.
vii) Consider - the required towing pull necessary to tow the vessel in distress.
viii) Make a plan of your poop deck with fairleads and bollards and find out which bollards have the necessary strength to be utilised for towing.
ix) Keep management well informed of the proceedings.
x) Note all activities in the logbook. Prepare a log extract of the incident when operations are ended.
Related Information:
Abandonship procedures - Immediate Evacuation By Own Survival Craft
Collision accident - Emergency procedure for Liquefied Gas carriers
Encountering High Winds and/or Waves - countermeasures
Salvage operation guideline
Abandonship procedures - Immediate Evacuation By Own Survival Craft
Collision accident - Emergency procedure for Liquefied Gas carriers
Encountering High Winds and/or Waves - countermeasures
Salvage operation guideline
External links :






//
Home page
///
LNG handling
///
LPG handling
///
Sea transport
///
Gas products
///
Cargo work
///
Fire precautions
///
Health hazards
///
Safety Precautions
///
Emergency response
///



Copyright © Liquefied Gas Carrier.com All rights reserved.


The content published in this website are for general reference only. We have endeavoured to make the information as accurate as possible but cannot take responsibility for any errors. For latest information please visit www.imo.org . Any suggestions, please Contact us !

///Links &Resources // Terms of use/// Privacy policy///Home page///